Here are some of the most frequently asked questions I receive:
What white cardstock do you use?
I use
Papertrey Ink Stampers Select
white cardstock most of the time. I love it for card bases, for stamping and for Copic colouring. I do also like
Neenah 110lb
cardstock too. I have done a whole review on white cardstock that you may be interested in seeing
here
and
here
.
What size cards do you make?
Most of the time I make American A2 size (not to be confused with English A2 as that would be huge!). The finished folded card front is 5 1/2" x 4 1/4". I make this size as I use American 8 1/2" x 11" cardstock and I can cut the sheet in half, score in half and then get two card bases from one piece of cardstock. If I used English A4 cardstock, I could cut this in half, score in half and that would make two A6 (English size) card bases. American A2 card bases are a bit less tall but a bit wider than English A6.
Occasionally I do make 4 Bar notecard size. This has a finished card front of 3 1/2" x 4 7/8" which is quite a bit smaller than a A2 card but it is lovely size for smaller images. If I make square cards, I like to make 5" x 5" cards.
Where do you get your envelopes for cards?
You can get American A2 sized envelopes in the UK but they are harder to find, as well as costing a bit more. I usually get mine from Amazon. I also buy my 4 bar envelopes from Amazon (A1 sized) or make them with a WRMK Envelope Punch Board. If I am using 5" x 5" cards, I usually get my envelopes from Craftwork Cards.
Here are the links to what I use: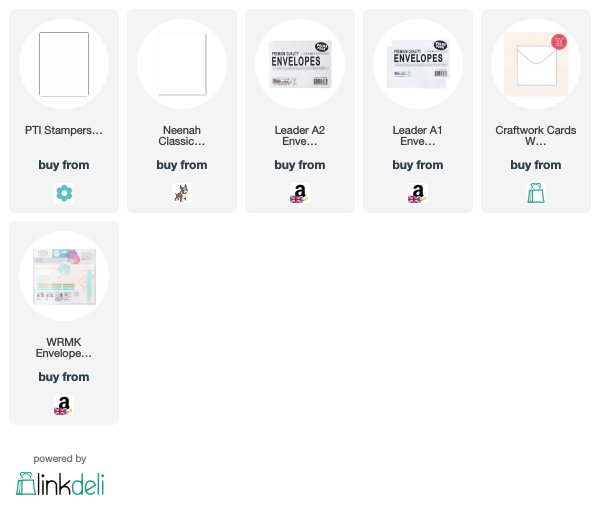 What die cutter do you use?
I have four die cutting machines. A Cuttlebug V2 which I have had for years, a Spellbinders Platinum 6 and a Gemini Junior machine. I also use a Sizzix SideKick for small die cutting.
How do you line up stamps when using co-ordinating dies?

If the die is solid then I always stamp and then die cut. You can see a video of how I do that
HERE
.
If the die is an outline one then I will stamp, then place the die over the top and hold with post it tape.

What Copic markers should I buy?
I use Copic Markers a lot to colour my images and I often get asked what colours should someone start out with. This is different for everyone but think about what images you are likely to colour the most. If it is people, you will want some skin tones, hair tones and also colours for clothing. If it is animals you will want fur tones - browns and greys would be good. If it is flowers you will want some greens and then whatever colour you will use for the petals. Here are a few of my favourite combos from each family:
Blue tones purples/BV: BV20, BV23, BV25
Pink toned purples/V: V01, V05, V06, V09 (bright tones) as well as V12, V15, V17 and V22, V25, V28
Red Violets/RV: RV52, RV55
Reds/R: R27, R29, R37, R89 also R81, R83, R85 (these are dark pink and my favourite pinks)
Red toned yellows/YR: YR12, YR14 also YR61, YR65, YR68
Yellows/Y: Y11, Y13, Y15, Y17
Yellow toned greens/YG: YG01, YG03, YG23 & YG17 (my most used greens, especially for leaves and grass) YG61, YG63, YG67
Greens/G: G40, G43 also G82, G85
Blue Greens/BG: BG11, BG13, BG49 and BG70, BG72, BG75, BG78
Blues/B: B0000, B000, B00 and B01 for sky. B12, B14 also B91, B93, B95, B97, B99.
Browns/E: E23, E25, E27, E29 also E41, E42, E43, E44 and E70, E71, E74, E77, E79 (Brown is probably my most used colour)
When it comes to greys I actually do use them all. I like the Warms/W for shadows and grounds especially and that is mainly W1, W3 and W5.
You also will definitely want to get a 0 Blender. This does not blend colour as such, it removes it. It is great for blending soft colour in to white, it is good for taking away colour if you make a mistake and also if you want to take colour away to give texture.
How do you film videos?
I use a Sony Camcorder which attaches to a Manfrotto Variable Friction Arm above my desk. This is attached to the wall with the Avenger Baby Plate and a Manfrotto Adapter. This films upside down but in my video editing software, I will rotate the image.
I use Adobe Premier Elements or Windows Movie Maker for editing. I also get asked a lot about my lighting. For lighting I have an Ikea Forsa lamp on my desk with a light bulb in. I also use two ring lights. These stand behind me while filming and then I take them down afterwards.
Here are the links to what I use: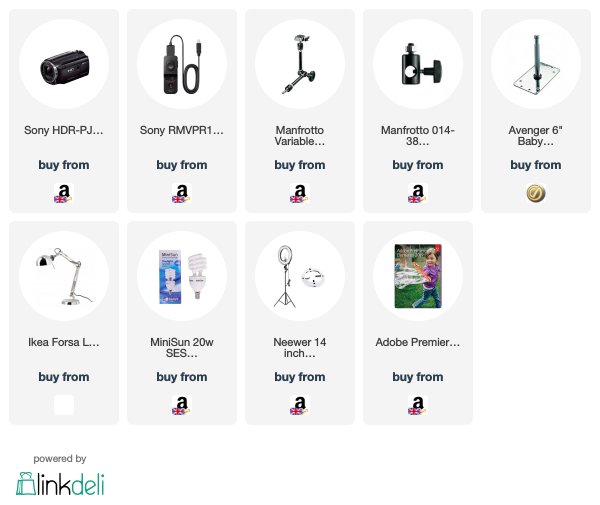 How do you photograph your cards?
I use a Canon 700D camera (also known as the Rebel T5i). It is pretty entry level but good for my needs (and budget!). I use it with a Canon 50mm 1.8 lens. I would love a 1.4 but I'll have to stick with the 1.8 for the time being! I also always use a tripod, I have the Manfrotto Compact one. I find it best to take photos with a tripod and a 2 second delay on the shutter, this elevates any blur caused by my movement when taking the shot. After taking the shot (numerous times) I edit them on my PC using Paint Shop Pro.
Here are the links to what I use: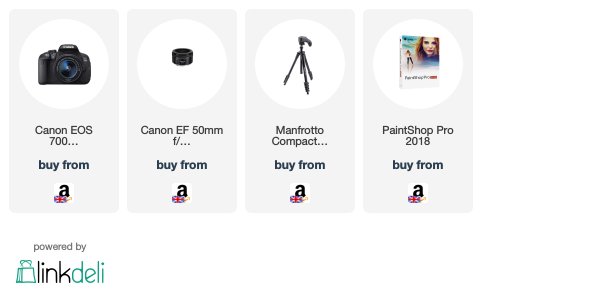 * Affiliate links are used on some products. This means that if you make a purchase after clicking on my link, I receive a small commission with no extra cost to you. I truly appreciate your support when using these links.*