Hello there, following on from my
previous post
, I am back to share another review with you using Arteza products. This time, I am looking at the
Arteza Professional Coloured Pencils
. Although I received these from the company in exchange for a review, all opinions, as always, are my own.
I received the
Arteza Professional Coloured Pencils
(being an American brand they are spelt 'colored' pencils but being English myself, I am using the English spelling) in a 72 set. They do also have a 48 set. These are a wax based pencil that retail in the UK for approximately £28 and $29 in the US. For that price, you may be thinking that these are not going to be very professional at all, but let me tell you, these are great!
The pencils themselves have a coloured wax based core, the wood exterior has the colour on it, to represent the colour of the core. There were a few colours where the colour on the barrel did not match up, but for the most part, they do. The pencils have the name and number for their colouring system printed on the barrel and these are very easy to read. They also have the lightfast rating printed on them. All of the pencils are lightfast. Arteza have a system of plus marks. The more plus marks printed on the pencil, the more lightfast the pencil is. These range from three to one.
The colour selection is good in the 72 set. There are not a huge amount of greys, but I often find this with colour pencil sets in general. Although these are a wax based pencil, I did find that these behave similar to an oil based pencil (which is usually my personal preference with colour pencils). The core has a strength to it and I have found to have no breaking. They also layer up really well with little to no wax bloom (at least with the amount of layers I use).
I tried the pencils out on a number of different cardstock and papers. As with all colouring mediums, the paper that you use really does make a difference. I did find, however, that they work well on all of the papers that I tried. Obviously there will always be an element of personal preference to this, though. Personally, I like to have some tooth to the paper but it not be too textured. The pencils also worked perfectly blending out with Gamsol/odourless mineral sprits.
I usually gravitate towards the same colour tone when using colouring mediums so this really got me out of my comfort zone and actually, I really enjoyed it! I then moved on to the leaves and the branch. I again used three shades of colour for the leaves (plus the white) and three shades for the branch too. All of the colours that I used are listed below the supplies area.
Here is a look at the colouring of the image:
If you are viewing this post via email subscription, you can watch the video
HERE
on YouTube.
Here are the links to what I have used on the card.
Affiliate links are used on some products. This means that if you make a purchase after clicking on my link, I receive a small commission with no extra cost to you. I truly appreciate your support when using these links. Please click on the logo below the product to shop at your favourite store. All products were personally purchased except those from Clearly Besotted, Hero Arts or those marked with an asterisk (*) which were kindly sent to me to use. You can read my full disclosure here.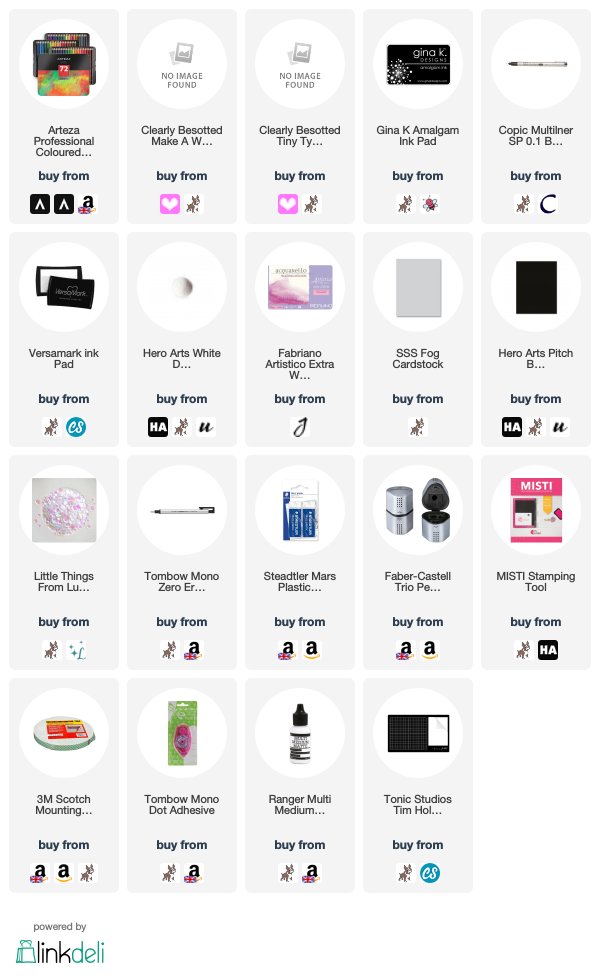 Arteza Coloured Pencils: Petals - A080 Fruit Punch, A083 Pink Macaroon, A022 Peaches & Cream, A024 White Quartz. Leaves - A094 Emerald, A093 Basil, A006 Matcha, A024 White Quartrz. Branch - A071 Espresso, A036 Cocoa, A113 Burnt Ochre.
My final thoughts on the pencils is that they are great. They were very easy to use and they blend out nicely using various different techniques. They have a good colour selection and are lightfast. The downside to them is that they do not have open stock, however, considering the price point on these I am not surprised at all. I think these pencils are great for beginners especially but also good for more experienced crafters/colourists.
If you like the look of the pencils and want to make a purchase, I do have a code for my readers for 10% off any order made on the
Arteza US Website
or on the
Arteza UK/EU Website
before 25th November 2019. Use the code:
MichelleShort3
Have you tried these pencils? What do you think? I would love to hear your thoughts on them. Thank you so much for visiting me today, I really appreciate it. I hope you have a great day!